FIFO RACK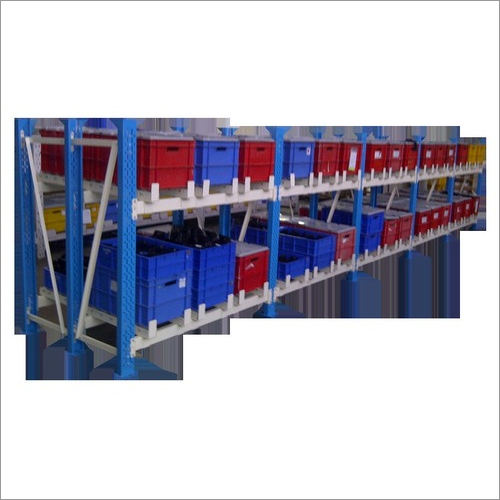 FIFO RACK
Product Code : 015
Brand Name : Vertex
Introduction
The company makes available FIFO RACK, a competent "Dynamic Storage". Right from complete flowthrough and pushback-racks over pre-mounted components up to parts that can be self-assembled are available. The offer completes with additional services such as blueprinting, testing, delivery and on-site assembly.
VERTEX is synonymous to quality and reliability in the field of conveying components:
Economic solutions are provided to gain distinctly sinking storage costs
Limited storage capacity is completely utilized. The requested storage concept is observed (First-In-First-Out or Last-In-First-Out)
The solutions leads to increase storing speed and better warehouse organisation.
One can contact us for turnkey project. We can handle everything, from layout over production, delivery, assembly to launch from one source.
Dynamic storage
Simple static stocking to dynamic storage is available. Its convenient compartment storage allows storage of a variety of items and small stocks.
FiFo-concept
VERTEX provides solutions of competent "Dynamic Storage" for Since 2005. The range starts from flow through- and push-back-racks over pre-mounted components to independent parts that can be self-assembled.
The dynamic storage has high strength.
The main advantages of dynamic storage
Optimum utilization of available space
Shorter ways of deposit and removal
Strictly keeping the requested storage concept (FiFo / LiFo)
Better organization of good with high turnover
Storage concept FiFo / LiFo
FIFO (First In - First Out) Flow-Through-Rack
The moveable charge is collected on gravity conveyor rollers and conveyed by gravity to the position for removal.
Expire date can be easily supervised
No need of IT-control, concept runs automatically
Short operation ways for commission of orders
Saves space
Make optimum use of rack space
Work flow and space usage are optimized by a spatial separation between deposit and removal
Permanent high filling level at removal: the charge automatically moves up after picking
The application of a separator at removal lowers down the accumulation pressure and allows the safe and easy removal of the foremost load carrier.
E-6, Rushika Flats, Near Kiran Park, New Vadaj, Ahmedabad - 380013, Gujarat, India
Phone : +917259631224
Fax : 91-79-27559088
Mr. Prakash Rameshchandra Panchal (Proprietor)
Mobile : +917259631224
| | |
| --- | --- |
| | VERTEX ENGINEERING WORKS All Rights Reserved. |